Alarm Lock DL2800 Electronic Digital Lock 200 User Codes, Audit Trail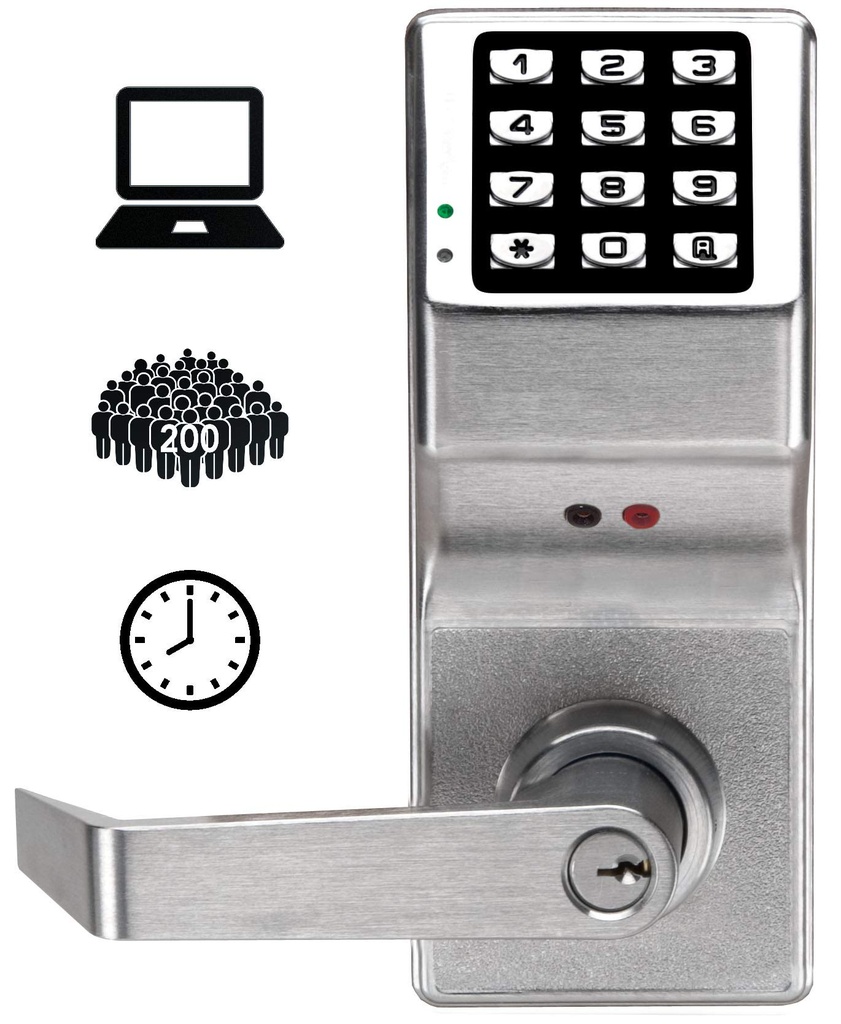 Alarm Lock DL2800 Electronic Digital Lock 200 User Codes, Audit Trail
DL2800-26D
Economy audit trail pushbutton lock Standalone access control systems with audit trail feature for indoor and outdoor applications
.• Rugged clutch mechanism and Grade 1 durability ensure long life 
• 150 scheduled events, including 4 "quick schedules" for programming the 4 most common time schedules in one step 
• 200 user codes including: Master, manager, supervisor and basic user. Also one-time entry service code 
• Weatherproof performance, water-sealed for use inside and out, with operational temperature range of +151°F to -31°F (+66°C to -35°C)
 • Entry allowance from 5-15 seconds 
• Greater security with "temporary keypad lockout" after 3 unsuccessful code-entry attempts 
• 1000 event audit trail with time/date stamp for a printable record of door access activity by user 
• Real time clock allows logging of events to within 1 second of accuracy 
• Programmable relays energize when one or more selected events occur 
• 4 time-out functions allow a user to enable other users or unlock the lock for some time period without needing to return to the lock 
• Easy to install in about an hour. Retrofits most cylindrical locksets and digital locks
• Battery operated; uses 5 AA batteries 
• Available in standard key override and interchangeable core models accepting 6 or 7 pin cores from Arrow, Best, Falcon or KSP. Other IC core preps available. 
• Available in standard Trilogy leverset (straight) or with Regal (curved) lever
KEYPAD: Rugged, vandal-resistant, all metal, 12 button programmable for multi-level access functions including group or individual user codes, master and management codes, passage and emergency or service code, lockout and remote override capability and allowable entry time from 5 to 15 seconds. 
OPERATION: Durable clutch mechanism permits turning lever without retracting latch and reduces stress on lock bodies and spindle. Outside lever free turning in locked position. Entering access code, key bypass, or remote bypass will allow lever to retract latch. Inside lever always instant egress. DOOR THICKNESS: 1 5/8" to 1 7/8." Other thicknesses. Please consult factory. 
BACKSET: 2 3/4" Standard. 2 3/8" backset also available. 
STANDARD KEY OVERRIDE CYLINDERS: Solid brass 6 pin tumbler cylinder pinned 5, SC1 keyway, furnished in all locks. Additional tailpieces included: HW580 fits Schlage, Corbin/Russwin CL, Sargent 480 Series, ASSA65-611. Model HW620 fits Ilco and Lori cylinders.
 AUDIT TRAIL: 1000 entry activity log can be polled to the Data Transfer Module (AL-DTM), any PC using DLWindows Software, and/or can be on-site printed using the hand-held infrared printer (AL-IR1). Activities included are: unlock/lock events, program mode changes, user entry, keypad lockout, remote release events, unauthorized code attempts, etc. 
INTERCHANGEABLE CORE MODELS: Accepts 6 & 7 Pin Cylinders from: Best, Arrow, KSP, Medeco Keymark & Kaba Peaks. Also available IC Core models for Yale, Medeco, Sargent, Corbin/Russwin CL and Schlage. Alarm Lock Tailpiece is supplied; IC Core is not included. 
LATCHBOLT: UL Listed, fire rated, 3 hours, 1/2" throw, solid brass, deadlocking. Reversible. Adjustable front for flat or beveled doors.  
STRIKE: 1 1/8" x 2 3/4" T strike & 1 1/4" x 4 7/8" ASA strike included. With screws for wood or metal jambs. 
LATCH FRONT: 1 1/8" x 2 1/4" wrought brass or stainless steel. 
HANDING: Non-handed. 
FINISHES: US26D satin chrome, US3 polished brass, US26 polished chrome, US5 antique brass, 10B Duronodic. (Call for other finishes.) 
POWER: 5 AA alkaline batteries, supplied. Audible low battery alert, visual and audible entry indicators, unique Flex Drive® motor. 100,000 cycles typical. 
DOOR PREP: Standard ANSI A115 Series Prep, modified by adding additional through-bolt holes. 
COMPLIANCES: Grade I, heavy duty cylindrical lockset, UL listed to the 10C Positive Pressure Specification and FCC certified. ADA compliant levers.