Alarm Lock PDL3500 Series Mortise lock Keypad & Proximity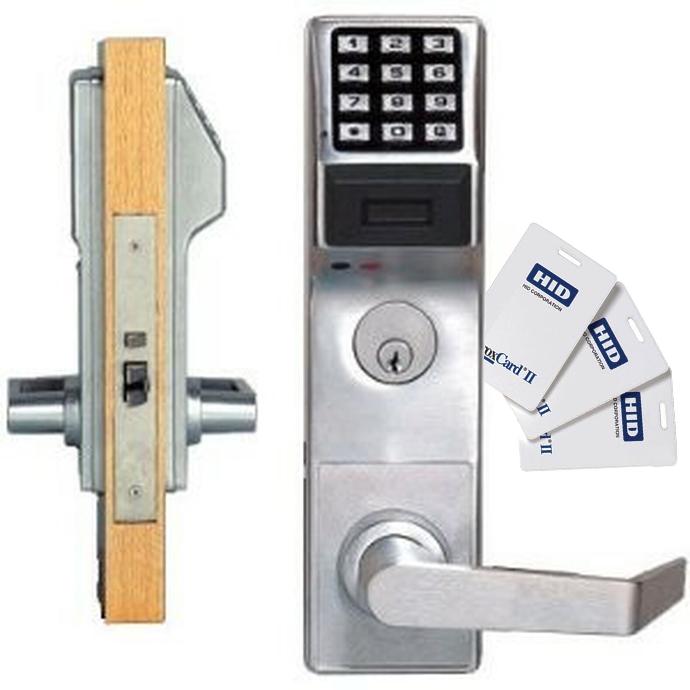 Alarm Lock PDL3500 Series Mortise lock Keypad & Proximity
FEATURES
Trilogy high security mortise locks with and without prox
PDL3500 SERIES
PDL3500 Series mortise lock with built in HID prox reader, similar to DL3500 Series, but with:
2000 user codes (3-6 digits) and/or HID prox cards/fobs
Multilevel security - Master; manager; supervisor; basic users
Easy Tap & Add batch prox ID card enrollment mode allows many cards to be quickly added without PC –also– downloadable from PC or prox enroller tool
PC programming/reporting
Quick passage mode (without being in program mode)
Program data transferred to lock via AL-PCI2 or AL-DTMIII
5AA battery-pack operated; 75,000 cycles, typ.
5 Architectural finishes
Weatherproof -31˚ to +151˚F (-35˚ to +66˚C)
Alarm Lock's standalone Trilogy Locks provide safe, convenient keyfob-activated classroom lock-down, from safely inside the classroom, with a typical range of up to 100'. A favorite in K-12s, colleges and universities for their easy deployment and dependable, affordability, field-proven Trilogy locks are both advanced and rugged Grade 1. Starting with the cylindrical DL3200 or PDL3000, and Mortise P/DL3500 Series, each lock can support up to 50 tiny keyfobs, used with the Trilogy Remote Release Kit. This great feature-set can be incorporated within any new installation, replacing any standard lockset, or they can be easily field-retrofit to existing Trilogy PIN and/or Prox ID Locks, to add this lockdown campus security feature.
For a global lockdown solution, Trilogy Networx are the wireless networked version as above, and can be locked down or unlocked campus-wide in under 10-seconds, from a keyfob, button or from the school server.
Specifications
HANDING

Right Hand

or

Left Hand

FUNCTION

Deadbolt

or

Classroom